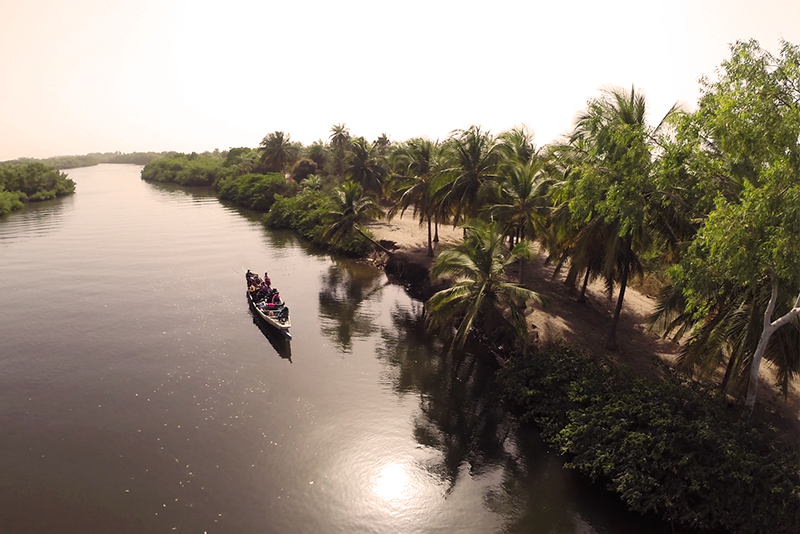 After a few days of relaxing at Diannah Bolong and getting into the African rhythm of life, you might get restless and maybe want to explore the archipelago down towards the border to Guinea Bissau. We will travel way back in time and also experience a bit of modern Senegal. A journey that can last from two to five days, depending on what you want to see.
In the regional capital of Ziguinchor we stay overnight at a hotel on the bank of the Casamance River. Big pirogues arrive full of passengers right below the terrace. The next day we visit the French Cultural Center and the large markets with their abundance of colorful high quality textiles. The center of town to this day is marked by its colonial past.
The king of Oussouye is the 17th elected monarch. We meet him in the reception room in the forest close to his palace. He is highly respected and is elected for life. The king gives out advice on personal as well as political issues.
Karabane was a port of embarcation for slaves to be sold in Europe and is located right out towards the open ocean. Karabane was also one of the first regional capitals in Senegal, and the ferry from Dakar still docks here.
Then we proceed to the kingdom of Oussouye, We bicycle through Oussouye village, guided by the king's nearest assistant, who knows everything worth knowing about the area. Animism is still alive and kicking, next to Islam and Christianity, and we visit one of the Animists' sacrificial centers, where we can see the village drums that are still in use to send important messages.
During the excursion we will also visit museums that tell the tale of the Jola people and their traditions – many of which fortunately belong to the past, before we embark on a slow trip back to Diannah Bolong.