Error: Contact form not found.
Welcome to DIANNAH BOLONG
Nestled in the heart of the Casamance in Southern Senegal, just south of Gambia, lies Diannah Bolong- a Norwegian-operated holiday guest house. Amidst the tranquil African countryside, an extraordinary experience awaits you, where the serenity of rural life harmoniously merges with grand adventures. You will find yourself merely a brief ten-minute drive away from some of the planet, finest, unspoiled beaches. Prepare to be captivated by breathtaking sunrises and sunsets that grace the horizon, crafting memories that linger in your heart. Embark on a journey that promises unforgettable memories and moments that will enrich your spirit and wisdom.
Casamance, adorned with its deep forests, sweeping savannas, and enchanting mangrove swamps, emerges as a paradise for birdwatching enthusiasts. Venture into its pristine territory and discover a realm that beacons to ornithologists and nature enthusiasts alike. In the southernmost reaches, vestiges of a rainforest endure, a sanctuary teeming with an array of seabirds, the graceful presence of dolphins, and the rarity of turtles that grace the shores.
Envision yourself gliding upon the serene waters within a sender pirogue, navigating the captivating labyrinths of the mangrove swamps lining the banks of Casamance River, a possibility of drifting to Guinea Bissau on this waterway.
The option of renting a motorboat or canoe provides an opportunity to explore the
Cadmance River. Forge a close connection with its essence, and embrace its rhythms and hidden corners firsthand.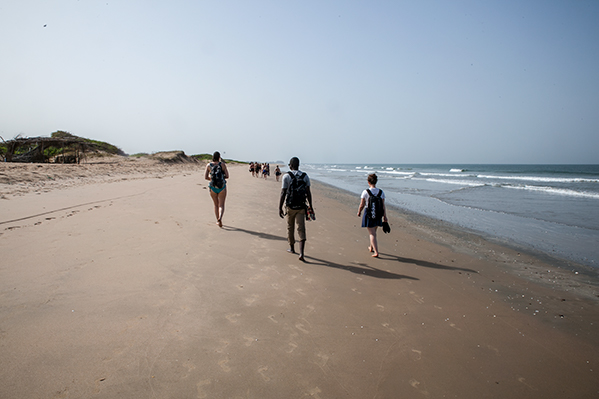 Travel to Diannah Bolong to be the change you want to see in the world. Experience a different vacation that brings a deeper meaning to your life.
All our vacations leave the smallest possible ecological footprint. We also leave Diannah Bolong better than we found it for every trip we make.
Do you want to make a difference to someones life?
Captured sunsets and cherished laughter by the serene shores of Diannah Bolong where moments turn into memories.
Embrace the rhythm of nature's lullaby at Diannah Bolong, where tranquil surroundings gently guide you into a peaceful slumber. Discover the symphony of peaceful nights at Dinannah Bolong, where nature's tranquility fosters rejuvenating sleep.
MOVE YOUR ENERGY WITH DANCE AND DRUM
Infuse your spirit with rhythm and movement at Diannah Bolong – where dance and drumming awaken your energy.
Like no Other Place on Earth – Unique Experiences
Diannah Bolong offers unique experiences like no other place on earth. How would you like watching a real witch doctor in practice? How about withdrawing money from a portable bike bank? Or pristine beaches without tourists with beautiful sunrises and sunsets?
In Diannah Bolong you can travel by donkey, come closer to nature than you have ever been, and move your energy with African drumming and dancing.
We will plan everything for you. You'll get picked up at the airport and guided all the way to your destination. You will travel all-inclusive. That means all the food, outings, transport and classes are covered.
Many of our employees are first aid certified through the Red Cross, and we always have a car available if anything should happen.
The recycling factory Kerewane Plastic is located in Diannah village in Kafountine municipality. We produce paving bricks from plastic waste, and we develop other products as well. We are proud to tell that part of our production is based on solar energy.
The factory is developed by the help of Engineers Without Borders, Norway.
All profits go back into the project.
Kerewane Plastic is part of the project Waste at work (W@W), that is fighting the plastic waste pollution in Casamance in close collaboration with the communities. Local partners: resort Diannah Bolong, Protected Marine Areas (AMP) and Kalissaye Ornithological Reserve (ROK).
The project will establish a sustainable system for handling large amounts of plastic waste in an area with limited infrastructure and electricity. We prevent plastic pollution and damage to the nature, wildlife and livestock now and in the future. The project organize clean-ups on beaches and rivers in vulnerable nature and have fixed collection stations in villages. Collected plastic is used as raw material in our factory where we make useful products for sale to the community. We choose to produce products which can replace scarce and expensive resources like wood or concrete.
Discover DIANNAH BOLONG ECO RESORT
Henriette
"What an adventure! Colourful, rythmical, peace, and culture. Lovely people, delicious food and an experience for life."

Ann Kristin
"A fantastic place to find peace, and to find yourself. Incredibly nice people, good food, and exiting culture!"

Frequently Asked Questions